WHEN LONG-BREWING INSTABILITY FINALLY REACHES CRISIS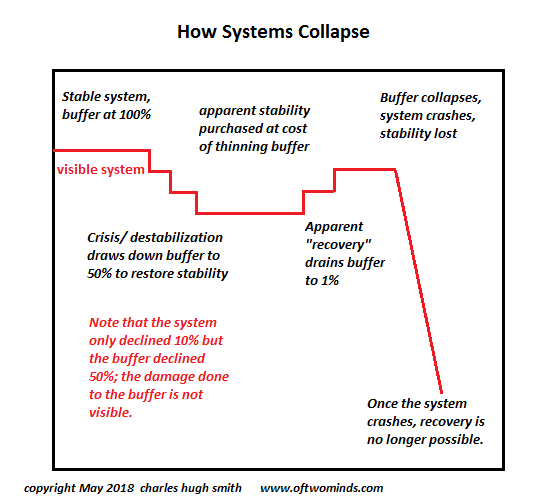 If we want to trace back the systemic instabilities and imbalances that culminated in China's revolution in 1949, we can start in 1900 with the Boxer Rebellion, which was itself a reaction to the Opium Wars of the 1840s that established Western influence and control in China.
But is this far enough back in time to understand the Communist Revolution in the 1940s? If we want a comprehensive understanding, we must go back to 1644 and the demise of the Ming Empire, and perhaps even farther back to the Mongol victory over the Song dynasties in the late 1200s.
In the same fashion, we can trace the current crisis of global-finance Capitalism back to the expansion of globalization, affordable fossil fuels and credit in the early 1900s. Affordable fossil fuels enabled rapid industrialization and the growth of transportation and communication networks. Add the expansionary effects of globalization and credit, and the consumer-finance economy took off like a rocket until the inevitable consequences of providing leverage and credit to marginal producers, buyers and speculators led to the Great Depression.
And so here we are in 2018, 25 years into an unprecedented technological and financial boom which is once again the result of cheap, abundant energy and credit and the global arbitrage of labor, yields, currencies and risk. And once again, the "solution" to every crisis is to do more of what's failed because that's the only option that doesn't require sacrifices from the elites and a painful reshuffling of power relations.
Those of us who saw the 2008-09 Global Financial Meltdown as the inevitable flowering of systemic instability have been marginalized by an epic 10-year boom, much like the Roaring Twenties seemed to "prove" all was not just well, it was terrific.
Source: WHEN LONG-BREWING INSTABILITY FINALLY REACHES CRISIS