Tag Archives:
killed
Yemen war: Mass funeral held for children killed in bus attack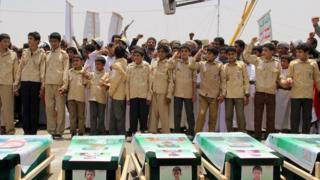 Thousands of people have gathered in Yemen for the funerals of dozens of children killed in a Saudi-led coalition attack on a bus last week.
The mass burial took place in Saada, a northern stronghold of Houthi rebels.
Crowds chanted in protest at Saudi Arabia, which backs the Yemeni government's fight against the group.
The coalition initially said its actions were "legitimate", but later said it would probe "collateral damage".
Source: Yemen war: Mass funeral held for children killed in bus attack